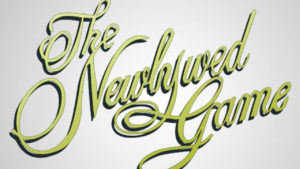 My mom. What a trip.
She didn't like watching Johnny Carson or Dean Martin because of the suggestive jokes that they told. Yet, she never missed an episode of The Newlywed Game!

The Newlywed Game, whose questions relied heavily on the word "whoopee," was one of my mom's favorite shows. Go figure.
It was one of mine, too. I had a pretty good idea of what "whoopee" was at the age of eight or so, when mom began watching it on a regular basis.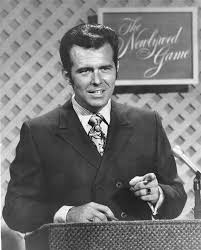 The Newlywed Game debuted in 1966, and ran on ABC until 1974. It was syndicated off and on from 1977 to 2000. Bob Eubanks hosted the show every year except 1984, when Dating Game host Jim Lange took over for a season.
The show got off to a good start, according to its Wikipedia entry:
When the show (created by Nick Nicholson and Roger Muir) premiered, it was scheduled against CBS' Password. On the day of its first episode, CBS pre-empted Password for coverage of Secretary of Defense Robert McNamara's press conference on the Vietnam War. Many viewers expecting to see Password instead changed the channel to ABC, which had decided go ahead with the premiere of The Newlywed Game instead of the press conference; many of those viewers kept watching Newlywed instead of Password, and as a result, Password was canceled a year later.
One can't picture the show without also picturing yard after yard of polyester in the form of leisure suits and great big ties. Numerous avocado green and harvest gold appliances were also given to couples. In fact, they were chosen exclusively for the winners!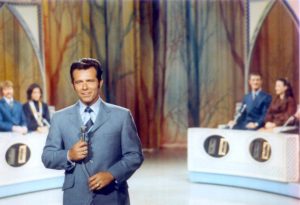 Eubanks clearly enjoyed his job. I remember one night when he asked the couples what was the most recent Jewish food they had eaten. A black gentleman replied "Motzah balls" and Eubanks collapsed from camera vision in a fit of laughter. I laughed hard too. It was the man's delivery that did it.
The Newlywed Game was the first game show to be bleeped, for good reason. Some of these couples just gave out too much information!
I recall an epiode when the ladies were asked what was the strangest article of clothing that their husbands had ever asked them to wear. One woman's response was bleeped, followed by the audience roaring for at least a minute. The answer card read "a very unusual article of clothing." I STILL wonder what it was.
Then, there was the infamous "in the butt" comment. Eubanks denied for years that a woman made that comment as a reply to the question "Where is the wierdest place you have ever gotten the urge to make whoopee?" But this YouTube recording proves that it did really happen at least once, in 1977. Eubanks himself presented that clip on an anniversary special of the show.
The Newlywed Game isn't around any more, but I have lots of great memories of my mother guffawing out loud at comments that Johnny Carson or Dean Martin would never make.