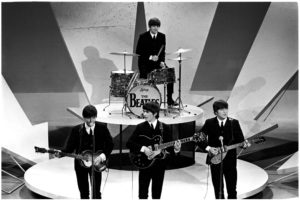 Ladies and gentlemen, THE BEATLES!
If your family had a TV that could pick up a CBS channel in the 60's (or 50's and early 70's for that matter), you likely had Ed Sullivan on every Sunday night.
The show was aimed at entertainment for the whole family. And Ed reached out to teenagers, too.
Witness the four legendary appearances by The Beatles. My father, who enjoyed the circus acts and comedy, was aghast that these long-haired kids were on the stage and that you couldn't even hear their music over the high-pitched screams of the younger female audience members.
I wouldn't let him turn it off, though. I was mystified by the spell they cast over the audience, as well as the rest of the nation. I became a lifelong fan on the spot.
I'm not sure if I saw their first 1964 appearance. But I did see them after that, and news that they would be appearing on an upcoming episode would be the talk of the elementary school. Come the fateful Sunday night, life stopped for a while. The next morning, we were singing their songs, listening to them on the radio, talking about them, and buying little plastic guitars with rubber band strings with their names printed on them.
Man, I wish I had some of those Beatles memorabilia today.