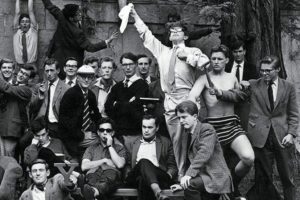 Once in a great while, a scientific mind comes along that changes everything. These brilliant individuals include Euclid, Copernicus, Galileo, Newton, Einstein, and a Boomer whose name fits right alongside the greatest of all: Professor Stephen Hawking.
Hawking was born in Oxford on January 8, 1942, to Dr. Frank Hawking, a research biologist, and his wife Isobel. Though German bombs were falling all around them, his parents had moved from North London while Stephen was in his mother's womb in order to escape the brunt of the attacks. Kudos to them, it would have been a tragedy for the human race to lose that mind in childhood.
Eventually, they moved to St. Albans, where young Stephen attended St. Albans High School for Girls. That's right, the school welcomed male students up to the age of ten. When he outgrew that institution, he switched to St. Albans public school, which proudly traced its history back to the year 1100. He was a diligent but unexceptional student who enjoyed science.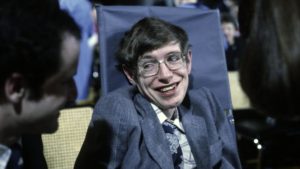 Under the encouragement of a favorite teacher, he boned up hard on mathematics, but steered his scholastics towards physics when he realized he had a better shot at getting into Oxford, his father's alma mater, under that discipline. He got in, but again was unexceptional as a student. He didn't like reading that much, or writing things down.
You can get away with that when you have one of the most brilliant brains in human history.
He received his BA degree in 1962, but stayed at Oxford to study astronomy. However, Oxford's limited astronomical equipment was holding him back, so he switched to Trinity Hall, Cambridge.
It was shortly after his arrival at that school that he began manifesting symptoms of ALS, the disease that would eventually confine him to a wheelchair, but not without a mighty fight.
Most ALS patients last perhaps two or three years after diagnosis. It's 2011, and Mr. Hawking is still around, as brilliant as ever. Hats off to you, sir.
Hawking didn't let the diagnosis faze him. He went to work on obtaining a Ph.D.
In 1965, he married his first wife, Jane. They would have three children before divorcing in 1991. At presstime, they have had a reconciliation of sorts, still good friends.
By 1974, Hawking, who could no longer walk, was made a Fellow of the British Royal Society. He was also made a commander in the Order of the British Empire. Despite these honors, he had barely begun to distinguish himself scientifically. The world hadn't seen nothing yet.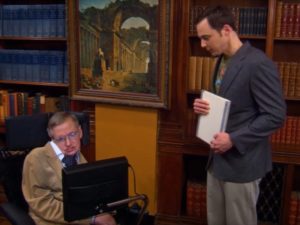 Though Hawking's name is firmly attached to research about black holes, the concept of the super-strong gravitational anomalies has been around since the 18th century. However, in 1974, Hawking did produce a startling new theory about them: They evaporate.
Even though the super-dense objects don't emit light, they DO emit thermal radiation, which means that they can lose mass. Eventually, they will vanish. Amazing, weird, wonderful stuff.
As Hawking continued to defy the two-year life expectancy he was initially given, he continued to rewrite science. The field of quantum physics owes much of its current state to Hawking's stubbornly examining theories, finding problems with them, and rewriting them to make more sense.
In 1985, Hawking contracted pneumonia. He had to get a tracheotomy in order to breathe, and hasn't spoken naturally since. He uses a keyboard with which his typed phrases are given an artificial human voice, one with which we have gotten familiar as he is quoted and featured in TV shows and other presentations about the origin of the universe.
However, that amazing mind continues to change scientific thought even as his body continues to deteriorate. He is considered courageous by most, reckless by some, and completely crazy by a few. But then again, so were most of the scientists mentioned early in the article.
In 2007, he enjoyed freedom from the constraints of gravity as he took a two-hour flight in a specially equipped 727 over the Atlantic, in order to repeatedly experience zero-G. It wasn't just a trip for fun. Professor Hawking has every intention to go into space.
If I were you, I wouldn't bet against him.