There probably aren't very many Boomer males who haven't been in love with the beautiful Mary Tyler Moore. My older brothers fell for her as Laura Petrie. I was just a kid then, so I fell for Mary Richards when I was a teenager. And even today, she has aged gracefully, maintaining a timeless beauty that refuses to go away.
Mary herself is not a Boomer. She was born in 1936. But her beautiful smile and the popularity of her TV shows makes her a Boomer memory for sure.
There are many things I love about this talented actress. First of all, when she was born, she was named Mary Tyler Moore. I have always appreciated artists, especially actors and actresses, who felt comfortable keeping their own name. However, I DO understand why John Wayne decided not to go with Marion Morrison. 😉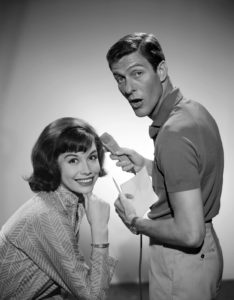 Mary's first moment on TV, which has been preserved, can be seen here. It was a Hotpoint appliance commercial for the Ozzie and Harriet Show. It caught the public's attention, and Mary was soon a regular guest star on shows like 77 Sunset Strip, Wanted: Dead or Alive, and Hawaiian Eye. She auditioned for the part of Danny Thomas's daughter on make Room for Daddy, but Danny himself vetoed her, saying her little pixie nose could never let her pass for his daughter.
In 1961, Carl Reiner envisioned a show about his misadventures writing for Sid Caesar's Your Show of Shows, and cast Dick Van Dyke as himself and Mary as Rob's understanding bride, Laura.
Dick was a good looking comedic genius who brought in the female viewers. Mary would have brought in the male demographic by being as funny as Adlai Stevenson, but it turned out she was a comedic genius herself. Double bonus.
Carl Reiner envisioned a series that would run for five years, then the plug would be pulled. And that's exactly what happened. The show was an incredible hit, and ended of its own accord after 158 wildly successful episodes. Its legacy is historically cemented in place by the fact that it was listed as "never jumped" at jumptheshark.com (before they opened the floodgates and let a bunch of mediocrities in).
What would be next for the lovely Ms. Moore? It would be 1970, with the debut of The Mary Tyler Moore Show.
The show was perfect for the era. Women's Lib was in full force, and a show about a gal who breaks off a bad relationship and moves to Minneapolis to start over was certain to be a hit with good writing and good acting. Once again, it scored big in both areas. Besides Mary, the show included a mixture of talents like Ed Asner, Valerie Harper, Betty White, Cloris Leachman, Gavin McCleod, and John Amos.
While Gloria Steinem was in full activist mode, Mary Richards chose to establish her independence with baby steps. The result was one of the most popular and successful sitcoms in history, even in the opinion of this writer, overshadowing the Dick Van Dyke show itself.
One of the single most hilarious moment on the show was when Chuckles the Clown met his demise. The funeral scene has to be seen to be believed. And thanks to YouTube, you can see it here.
Mary knows how to take her leave, and she took the show out on top in 1977, shortly before I graduated from high school. She proceeded into movies, playing a mother with issues in Robert Redford's directorial debut Ordinary People in 1980. She was nominated for an Academy Award, but fell short of winning it. The dark, cold character she played so brilliantly was certainly not Mary Richards or Laura Petrie. Its shock value may well have hurt her chances.
As I mentioned before, Mary has slid very gracefully into her golden years. She is an outspoken advocate of causes she supports, and still picks up an occasional acting gig (HER choice). She is also an essential part of Boomer memories, particularly for the guys who sought her qualities in the ladies they pursued.