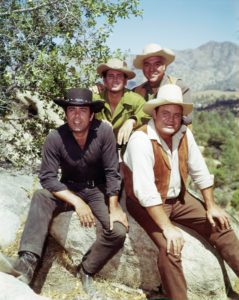 A time traveler from 1960 would be bewildered by today's network television offerings. Obviously, the risque content would be shocking. But the dearth of Western dramas would be puzzling as well. For many years, television schedules were heavy with horse operas.
Two series that anchored the genre firmly to Saturday and Sunday nights for many years were Gunsmoke and Bonanza.
Gunsmoke will certainly rate its own future column. Today, we discuss the inhabitants of the Ponderosa.
Bonanza originally aired on Saturday nights beginning the year I was born, 1959. While its rival CBS series had managed to garner good ratings on that particular evening, Bonanza never found its audience. NBC slated it for cancellation, but it received one last chance: a move to Sunday nights.
It was just what the show needed. Ratings skyrocketed, and Bonanza won the yearly ratings crown from 1964 through 1967 as the most popular show in the country.
The show starred Canadian broadcaster Lorne Greene, Georgia singer-actor Pernell Roberts, Texas teacher-turned-actor Dan Blocker, and Teenage Wolfman Michael Landon.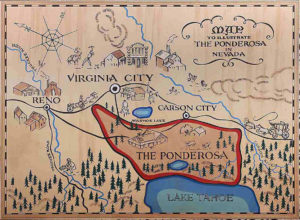 Roberts' time with the show was marked by many disputes with series writers and show creator David Dortort (who was depicted as the mine overseer in the show's opening credits). It all came to a head in 1965, when he left the series. Adam was occasionally mentioned afterwards as off traveling somewhere, but eventually was forgotten.
Various characters were introduced to fill Adam's void, but most lasted only a short time. The longest lasting was David Canary's Candy, who lived with the family from 1967-1970.
Each show would go one of two directions: serious or comedy. My parents weren't fans of the funny shows, but they were certainly my favorites. It took the first five minutes of each episode to reveal its nature.
The humorous episodes invariably involved Hoss. Little Joe did his share of funny bits, too. And of course any scene that featured Hop Sing would elicit laughs.
Victor Sen Young, Hop Sing's portrayer, was a great, underappreciated actor. There simply were no serious roles for Asian-American actors from the thirties onward, so he found himself playing stereotypical roles in the Charlie Chan films and other movies he appeared in. The actor accepted the role of the ranch's cook, and was in fact an excellent chef in real life. He also had his own real-life adventures, having been wounded in the taking of a hijacked airliner in 1972. Tragically, Sen-Yung died of carbon monoxide poisoning in his home in 1980.
Many say the show was never the same after Adam's departure, but it garnered its highest ratings nonetheless. However, as we entered the 70's, Bonanza showed signs of aging. The untimely death of Dan Blocker in 1972 sealed the show's fate. A last-season-move to Tuesday night was the final nail in its coffin.
Thus ended one of the two longest-running Western series on television, and NBC's own longest running one until it was dethroned by Law and Order.
Sunday nights in the 60's wouldn't have been the same without that familiar theme song coming out of that TV speaker and the Cartwrights riding up on the screen in full-color glory. Here's to an hour a week that contributed lots of data to my memory banks.