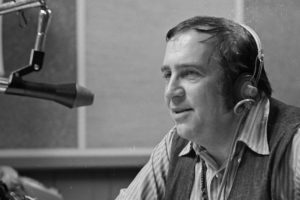 Boomers in the northeast US had lots of cool things growing up that those of us in the heartland didn't have access to. For example, they got to visit Palisades Park, while the rest of us had to settle for dreaming about it. And they also got to listen to Jean Shepherd on WOR out of New York. While the station's airwaves carried hundreds of miles, they didn't reach northeast Oklahoma.
That's a shame. I missed out on one of the greatest storytellers in history.
Jean was born in 1921 and heard the calling of the radio business. He obtained an amateur radio license when he was sixteen, and served in the U.S. Army Signal Corps in WWII. After the war, he landed his first radio gig for WSAI in Cincinnati.
He worked for various stations and even did a little television until 1956, when he went to work for WOR with a late night show. It would remain his home (with a little time off for bad behavior) until 1977.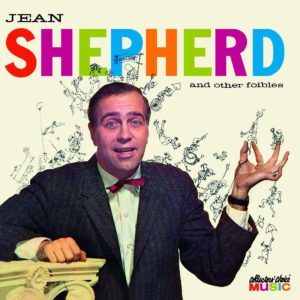 Shep, as he was called, filled dead air time for a few months with his rambling commercial-free narratives. He quickly attracted a significant audience. WOR informed him that they would be replacing him with commercial content. He offered to run an ad. He did so, for Sweetheart soap. Unfortunately, the company was not a sponsor.
Miffed, WOR fired him on the spot. Then came the deluge of angry mail and phone calls from his fans. Sweetheart soap even offered to sponsor him, and he was rehired. The irreverent Shep would frequently make fun of the ads of his sponsors in the background while they ran, but they didn't seem to mind.
Shep's stories featured many remembrances of people who may or may not have actually existed, although he always claimed they did. Regardless, the stories were amazing to listen to. Shep would ramble on for 45 minutes or so with no script. But there was no hesitation as if he was trying to think of something to say.
Shep was a great leg-puller. He took issue with the fact that best-seller lists were formulated by requests for books at bookstores, rather than actual sales.
So Shep created a book-that-never-was-but-was. It began by his urging his listeners to go into bookstores and requesting I, Libertine, by acclaimed (and also made up) British author Frederick R. Ewing. Sure enough, the book dealers began requesting copies of the non-book from Publisher's Weekly. The New York Times Book Review included it on their newly published works list. One college student wrote a thesis in the form of a review of the book — and got a B+.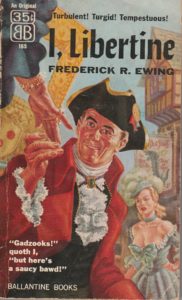 Shepherd himself wrote "Friends would call to tell me that they'd met people at cocktail parties who claimed to have read it. One of the professors at Rutgers casually mentioned the book at a Sunday literary meeting and somebody present said he'd just finished it. When pressed, he was evasive about the plot." And best of all, Boston's Legion of Decency banned the allegedly bawdy non-work.
There was only one thing to do, publish the book! So publisher Ian Ballantine, novelist Theodore Sturgeon and Shepherd met for lunch, and Ballantine hired Sturgeon to write the novel based on Shepherd's outline.
It gets weirder. Sturgeon fell asleep on the Ballentine's couch, and Ian's wife Betty wrote the final chapter! I, Libertine was published simultaneously in paperback and hardcopy. Shep himself posed for the back-cover photo of Ewing.
Shep was a prolific writer. He actually penned many short stories that were collected into books. One was In God We Trust, All Others Pay Cash. It featured a story about a kid who REALLY, REALLY wanted a Red Ryder BB gun for Christmas. It was turned into a 1983 movie that was a smash hit. A Christmas Story holds a very respectable 8.0 rating at IMDB.com, which means that over 36,000 voters thought it was pretty stinkin' good.