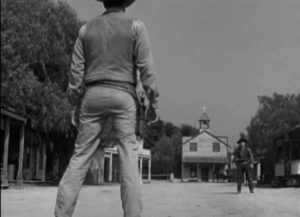 Westerns (both radio and television) were largely kiddy fare in the early 1950's. Kids loved shows like The Lone Ranger, but most of their parents found the stories a bit simple and, well, suited for children.
In 1952, CBS began airing a western that was aimed at adults. The result was a smash hit that eventually dominated both television AND radio. In fact, for an amazing six years, from 1955 to 1961, the radio and television versions of Gunsmoke existed side-by-side, with two different sets of cast members!
The radio cast consisted of William Conrad as Matt Dillon, Howard McNear (better known as Floyd the barber) as Doc, Georgia Ellis as Kitty, and Parley Baer as Chester.
The radio version was one of the last, if not the VERY last network radio drama. I was astounded to find that it was still on when I was born.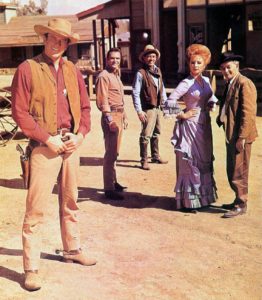 But Boomer kids of my age range remember the TV show. Originally broadcast on Saturday nights, it went from a half-hour to a full hour beginning in 1961. In 1967, it moved to Monday nights, and also began being broadcast in color.
I don't remember Dennis Weaver's Chester or the B&W episodes. The Gunsmoke that populates my memory banks had Festus (he first appeared in 1964, the same year that Chester limped off into the sunset) and bright colors on our shiny new color TV.
The show made many changes over the years, arguably getting better with each one. However, political correctness reared its ugly head in the late 60's. I was always a kid who noticed details, and the opening scene was one of my favorite replayed moments in TV. The "man in black" would square off against Mat Dillon on Dodge City's main street, then crumble into a heap as the marshal would outdraw him.
That scene was endlessly reenacted by my friends and myself in our back yards or in front of the full-length mirror at Montgomery-Ward's.
But one night, probably in 1968, I noticed that instead of seeing the bad guy crumple, instead the scene cut back to show Matt shooting. What the heck?
By the 1970's, the PC police had watered the opening down to Matt riding across the desert. Sheesh.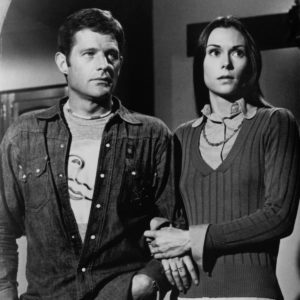 Gunsmoke had a plethora of guest stars over its 20-year run, and also provided a regular role for Burt Reynolds as blacksmith Quint Asper from 1962-1965. Among its guest stars were Jack Albertson, Claude Akins, John Astin, Cicely Tyson, Slim Pickens, Edward Asner, "Mr. Spock" Leonard Nimoy, John Drew Barrymore, Ed Begley, Ralph Bellamy, "Hoss" Dan Blocker, "The Bad" Lee Van Cleef, Bruce Boxleitner, Beau Bridges, "Batman" Adam West, Charles Bronson, "Mr. French" Sebastian Cabot, "Mr Drucker" Frank Cady, and both versions of Trapper John, Pernell Roberts and Wayne Rogers.
Gunsmoke's ratings had taken a bit of a dip by 1971, the end of the 15th season, and CBS announced its impending cancellation. A letter-writing frenzy was launched by angry fans, and the show stayed. Ratings went up, too. But in 1975, they had slipped a bit, but the show still placed a very respectable 28th at the end of the season. But CBS pulled the plug permanently this time, as part of the housecleaning it was doing to try to attract younger viewers.
Today, Gunsmoke is one of the most popular shows on TVLand. Many of us former class clowns still offer our drawled imitations of Festus saying "I don't know, Matthew" when confronted with quandries at work. And I've been know to occasionally reenact that shootout scene when nobody's looking, too. Both The Simpsons and Law and Order will likely eclipse its 20-year run. But that won't minimize the pleasant memories that we Boomer kids have of watching the daily events unfold in Dodge City all of those years ago.