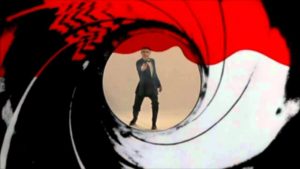 It all began in 1936. That year, a book was published called Birds of the West Indies. Novelist Ian Fleming, living in Jamaica, was a birder himself, and he was impressed with the volume. He was also impressed with the name of the book's author: James Bond.
Fleming wrote a novel called Casino Royale in 1953, and gave the book's hero the name of the author of the birding book. In an interview with Reader's Digest, he explained:
"I wanted the simplest, dullest, plainest-sounding name I could find, and 'James Bond' was much better than something more interesting, like 'Peregrine Carruthers.' Exotic things would happen to and around him, but he would be a neutral figure — an anonymous, blunt instrument wielded by a government department."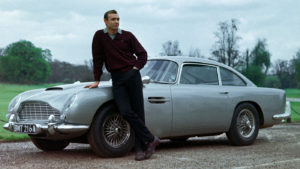 Gotta agree with him there. Imagine hearing over and over again throughout 20+ films "Carruthers. Peregrine Carruthers."
The Bond novels were a hit. I was particularly and personally impressed that my own mother was a fan. She really wasn't so much into the subsequent film series, but she read many a Fleming Bond novel.
The film series was born when Fleming signed an agreement with Britain-based EON Productions for the film rights to all Bond novels (except Casino Royale, though that novel's rights were also gained later). In 1962, the first film came out: Dr. No.
The star of the film was a Scottish actor by the name of Sean Connery. He had distinguished himself with roles in Darby O'Gill and the Little People and The Longest Day. His handling of the Bond character could either make or break the franchise plans that EON had in mind.
They needn't have worried. Connery chose to become Ian Fleming himself, a sophisticated, educated, womanizing, hard-drinking-and-smoking ex-naval commander.
His portrayal was just the ticket. Dr. No grossed over $59,000,000. That was a nice return on a one million dollar investment. James Bond, the cinematic series, was successfully launched. This was big. How long could the racehorse run? Ten years? TWENTY?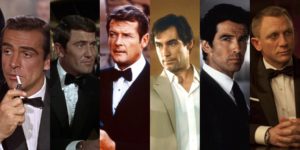 Forty-four years later, I am still reeling from the audio and visual onslaught that nearly overwhelmed my senses that was Quantum of Solace. The movie was, in a one-word review, excellent. Did they REALLY trash an Aston-Martin worth a quarter of a million dollars?
The Bond franchise has proven to be the most successful and longest running in Hollywood history. All of the films, even the ones that you might never want to see again, were fabulously profitable. Ian Fleming wrote twelve novels and three short stories, all of which have been covered as films. He dropped dead as a hard-drinking, smoking womanizer should, suddenly of a heart attack, at age 56 in 1964. The lack of literary backup for the film scripts hasn't hurt things one bit.
To Boomers, 007 will always be Sean Connery. Roger Moore had to endure much criticism from diehard Bond fans when it became obvious that he wouldn't be a one-film wonder like George Lazenby. That seems trite now, when we are used to new a new actor every few years. But Connery's appeal as THE Bond was demonstrated with 1983's Never Say Never Again, which portrayed 007 as a balding, out-of-shape fellow who is reluctantly dragged out of retirement and back into action. The movie, of course, made a mint.
So every time a new Bond film is produced and carefully edited to maintain that PG-13 rating (something that I appreciate) and proceeds to make triple-figure-millions, remember, Boomers, that it all started when we were kids.