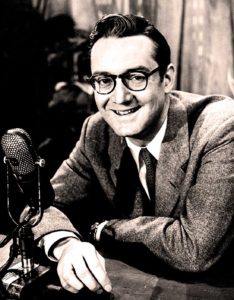 Growing up Boomers, there were familiar faces on TV that kept showing up time after time that were as comfortable as a well-worn pair of slippers. They would move from series to series, and we sort of took it for granted that we would always have them.
Sadly, that's not the case. One performer who left us in 2000 is dearly missed by me, and after the memory bump that this site provides, I suspect by you as well.
Stephen Valentine Patrick William Allen was born in 1921 in NYC to a pair of vaudeville performers. Yes, show business was in his blood. His father died when Steve was a toddler, and his mother largely left it up to her family to raise him in the gritty south side of Chicago.
Steve sought a career in radio, and early in the 1940's, he landed his first gig at station KOY in Phoenix. When WWII started, he enlisted and trained as an infantryman. He never was shipped overseas, though, and returned to radio when the war was over. he became an announcer for LA's KAFC, then in 1946 began hosting a five-nights-per-week comedy show.
This led into a one-hour late night series that became a smash hit. Audiences were SRO, and one night, guest Doris Day failed to show. Allen tried something risky, moving into the audience with a microphone to do some ad-libbing. He was a natural at it, and it became a regular part of his performances.
The successful local show went national in 1950, and Allen began a 50-year-run of being a very recognizable and well-loved celebrity.
That same year, CBS gave Allen a daily half-hour TV variety show. It really didn't catch on, and it was canceled in 1952.
Shortly afterwards, he was called upon to guest host Arthur Godfrey's Talent Scouts. He performed a live commercial bizarrely, preparing Lipton tea and Campbell's soup and pouring both into Godfrey's ukulele. The audience roared, and Allen had found his niche as a slightly atilt highly intellectual entertainer.
He was a regular face on What's My Line (it was him who coined the phrase "Is it bigger than a breadbox?"), and in 1954, he was offered a job hosting a new NBC series: The Tonight Show.
He made the show a hit, and continued to host it three nights a week when he was offered a Sunday night primetime variety vehicle that was to compete with Sullivan.
A lot of folks were unaware that Allen had this gig, and just how powerful it was. Always overshadowed by the venerable Irishman's offering, Allen nonetheless showed America a great time, and some amazing acts. For example, he had Elvis on before Sullivan did!
The show did as well as could be expected against CBS's juggernaut. It help launch the careers of Johnny Carson, Tom Poston, Bill Dana, Don Knotts, and a number of other frequent appearers. He also had an unconventional author on once by the name of Jack Kerouac. Another of his most memorable moments was explaining the lyrics to the song "Be-Bop-a-Lu-La."
After the Sunday evening show's cancellation, Allen began hosting a late-night syndicated rehash of The Tonight Show. The show lasted from 1962-64, and featured an appearance by Frank Zappa, who played a tune on a bicycle. He also had Bob Dylan on in 1964. The Generation Gapwas quite in evidence as Allen struggled to get Dylan to communicate in an interview. He made it clear that he was a bit bewildered that the poet had reached America's youth, but he respected and admired the fact that he did.
Allen went on to host a number of brilliant, short-lived series. In 1967, he had a summer show, The Steve Allen Comedy Hour, which launched the careers of Rob Reiner, John Byner, Richard Dreyfuss, and Ruth Buzzi, who would be on NBC's Laugh-In later that year.
In the late 60's, he returned to a syndicated late-night show that featured him doing some Lettermanesque stunts, including becoming a human hood ornament, jumping into huge containers of sticky foods, and once being copiously covered with dog food, and then allowing hungry canines to chow down from himself on camera.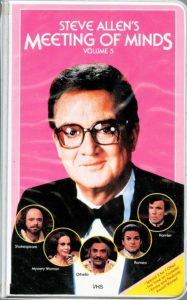 In 1977, he began a series for PBS called Meeting of Minds, in which he put famous historical characters together for discussions of all sorts of matters. It was weird, fascinating stuff, which frequently caused me to tune to the local educational channel.
Allen had that rarest of gifts, a long-lasting Hollywood marriage, to actress Jayne Meadows. She would appear on each episode of the show. One memorable performance was as Catherine the Great, and how she bemoaned the fact that she had such lousy luck in bed. I guess her name might have been a bit too intimidating for her suitors?
Meeting of Minds ran for four seasons, but only a total of eighteen episodes were filmed. If you can find them on DVD, give them a look. They are truly timeless.
This could go on forever, so I must cut things a bit short. Allen was also a prolific songwriter, his most famous tune was "This Could be the Start of Something Big." He was a gifted musician whose piano playing was legendary. He also wrote over 50 books. One of his specialties was debunking false truths.
On October 30, 2000, he was involved in a minor fender-bender in southern California. He went on to his son's home, helped his grandchildren carve pumpkins, recorded a radio tribute to his friend, satirist Paul Krassner, and lay down for a nap.
He never woke up. The accident caused bleeding in his chest, and blood filled his pericardium and choked off his heart.
I miss Steverino. He never pretended to understand younger generations, but he respected them, and felt that they should laugh at themselves, just like everyone else ought to. He strongly molded modern-day talk-variety shows with his pioneering use of man-on-the-street interviews, his live bantering and ad-libbing with audience members, and his physical comedy.
Steve Allen's 1921 birth truly was the start of something big.