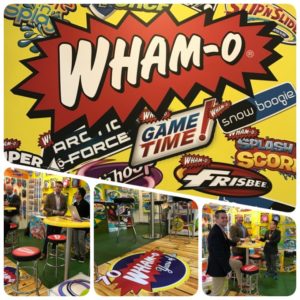 One thing virtually every Baby boomer who grew up in the US has in common is a shared recollection of having various Wham-O toys out in the yard.
Wham-O produced the Hula Hoop, the Frisbee, and the SuperBall, of course, but they also made a whole slew of other toys that were very popular, though not the sensations that the previously mentioned trio were.
Wham-O was founded in 1948. Its first product was a slingshot. The founders, Richard Knerr and Arthur "Spud" Melin, were into falconry. They would hurl meat up into the air to train the birds. The idea of a forked stick with flexible straps to propel small objects just occurred to them. Thus was born the little window-breaker that would soon be in the hands of kids all over the country.
Of course, Wham-O hit it big with the Hula Hoop and the Frisbee. But they also made numerous other products that would populate the memories of Baby Boomers.
For instance, there was the Wheelie Bar for banana-seat bicycles. I never had a Wheelie Bar myself.
Other Wham-O creations include Super Elastic Bubble Plastic and The Bubble Thing, which made HUGE bubbles.
Perhaps you weren't aware that Wham-O dabbled in the firearms business. But sometime in the late 50's or early 60's, they manufactured a single-shot .22 pistol! I was surprised to hear that, but guns really didn't carry as much of a negative stigma back in those days as they seem to now. I grew up with a house full of guns for hunting, as did many other Boomers in rural and small-town areas.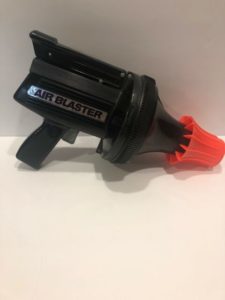 But Wham-O made lots of play guns, too. One of the most amazing was the Air Blaster that could blow out a candle twenty feet away. To be shot with an air blaster would be to experience getting smacked with a ball of compressed air. Weird and fun.
Wham-O is also responsible for the Water Wiggle, the Slip and Slide, the Hacky Sack, and Silly String, all of which appeared during our lifetimes. They also sold (I believe) a rubber ring with a ball attached at the end of a stalk. You would slip a foot through the ring and twirl it, jumping over the swinging stalk. Perhaps a reader could enlighten us as to what it was called, as I couldn't find anything.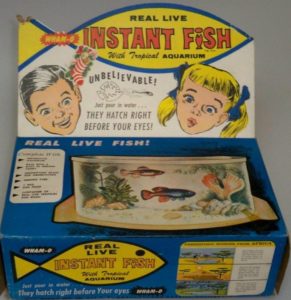 But not everything Wham-O sold was a raging success. One of the founders took an African safari in the early 60's and was amazed to see a species of fish that laid its eggs in mud which would become completely dry. The next rainfall would see the eggs hatch.
Thinking he had his next big product, Melin brought a bunch of egg-laden mud back to the States. His idea was that he would sell a little mud with instructions for an instant aquarium. In fact, according to Wham-O's website, millions of orders were taken for Melin's latest product.
Alas, the fish, as temperamental as panda bears, wouldn't reproduce well in captivity. So that's why you don't remember Mudfish, or whatever they would have been called.
So here's to Wham-O, a wonderful toy and gadget company that is still alive and doing quite well. Our childhoods just wouldn't have been the same without Frisbees, Hula Hoops, Slip and Slides and the like.