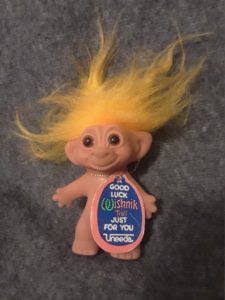 Wishniks were all the rage in the 60's. They were available in all sorts of sizes, from plastic dolls nearly a foot tall to mini-wishniks that fit inside a plastic container that was dispensed by vending machines that took quarters. They were utterly worthless and totally irresistible.
Supposedly, they brought good luck. Whatever. I just know that I used to have a few of them sitting on various shelves in my bedroom. I don't recall my fortunes as being particularly provident.
The troll doll was first produced by a danish woodcutter named Thomas Dam the same year I was born, 1959. Genuine Dam trolls from the period are quite valuable.
It wasn't long before cheap knockoffs appeared, the most prolific of which was the Wishnik.
Even wishniks found themselves cloned, by toymaker Mattel.
One of the Thingmaker series of toys was Creeple People, which let kids make trolls that fit on the end of a pencil out of Plastigoop. Hey, you could tell they were just Wishniks with orifices that allowed a pencil to be, ahem, inserted.
Trolls never really died out. They have had various comebacks over the years. But the early-to-mid 60's was the time when the Wishniks ruled the toy stores.